Mat Newman
June 26 2012 06:02:46
One of my favourite features of Lotus Notes is the Notebook (Journal) database. The Notebook database in Lotus Notes is an excellent way to quickly jot down ideas, or capture information from another place - like an email message or web site - that you want to reference later.
Although the Notebook has the ability to use folders to organise information, I prefer using Categories. Categorising a document is more flexible than putting it in a folder (I customise my own mail database so it has this feature) since it's really EASY to have a document appearing under multiple Categories.
One of the 'hidden' features that Categories in Lotus Notes has is the ability to create a 'structure' similar to sub-folders, where a user can group related documents under a tree hierarchy to further refine their grouping of records.
How do you do it? Simple. Just include a
\
(backslash) in the category name in a record (like a Notebook entry) to create the 'sub-folders'. eg:
Category: Household\Recipe
Figure 1: A category with a sub-category on a form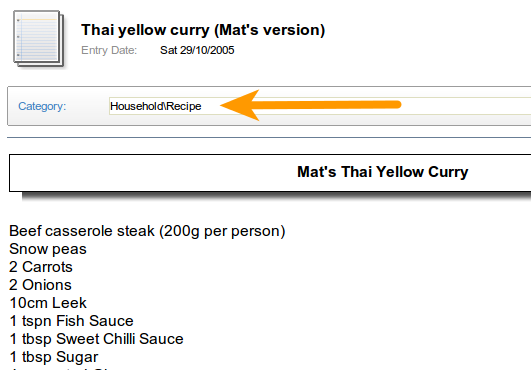 Will create a main heading called "Household", which will show a twistie next to the Household heading, and then a further heading below that called 'Recipe', show below:
Figure 2: A category with a sub-category in a view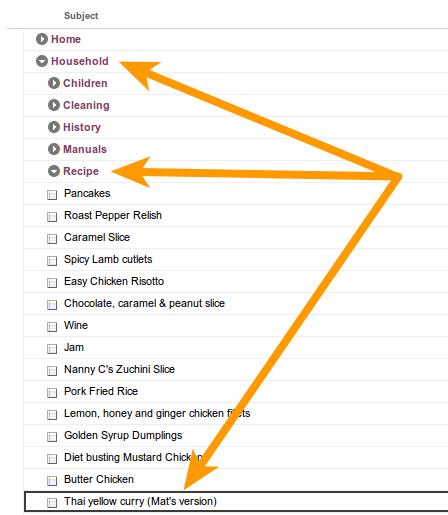 Of course, this feature will work in any standard Lotus Notes database form that contains a 'Category' option, why not try it out in your Lotus Notes Contacts, Calendar and To Do's as they all contain a 'Categories' field and their related views will show you records grouped under the structure you create.
Unfortunately, if you want this feature in your Mail, you will need to ask someone to customise your Mail Database to include the option, as it was removed as a standard feature of the Lotus Notes Mail Database a number of versions ago...
Using a Category to create a navigable folder structure ... easy!
Enjoy :-)