Mat Newman
July 1 2014 17:57:51
Every now and again one comes across an awesome plugin that demonstrates some fantastic integration between day-to-day applications and IBM's Connections collaboration platform. This one is a Connections search plugin for Chrome, and it's awesome.

From the description:

"This extension let you search content within IBM Connections.
The IBM Connections QuickSearch plugin let you quickly search for users or content within IBM Connections and update your profile picture using your webcam or an existing picture.
Use the popup window in the upper right corner of chrome in order to search within Profiles (with type-ahead feature), Files, Forums and so on.
You can also use it directly from the URL navigation bar, by typing "ic" (without any quotes) following by a space then your query. Then press enter for a global search or arrow keys to reduce the scope."

Figure 1: Chrome Connections Search Plugin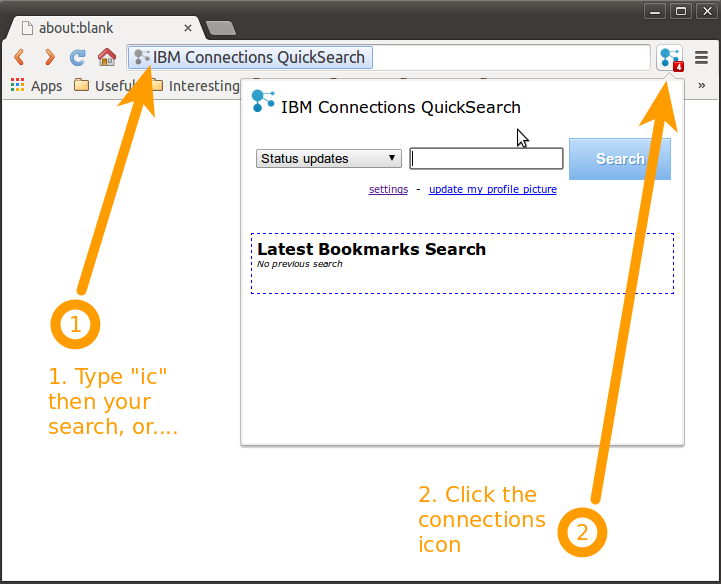 As in Figure 1 - above - just type "ic" to activate the Connections search in the type-ahead bar, and then type your search string; OR click on the Connections icon to limit your search to specific features of Connections.
The first time you activate the plugin you will be asked to enter your Connections server settings, including:

Your server,
Your username, and
Your password
Pretty simple.
Get it here:
https://chrome.google.com/webstore/detail/ibm-connections-quicksear/mgecppdhghinpakolemfdpkfemnphmid
Enjoy!