Mat Newman
January 9 2013 23:21:19
Over the last few years, one of the most useful tools leading up to Lotusphere (now IBM Connect) has been the outstanding Session Database provided by
Ben Langhinrichs
.
A few weeks ago Ben announced that he wouldn't be producing the database this year.
Never fear, it's not gone - a group of people are working on a replacement, which you can
download HERE
( <- Right-Click, Download).

Figure 1: IBM Connect 2013 session DB, version 1: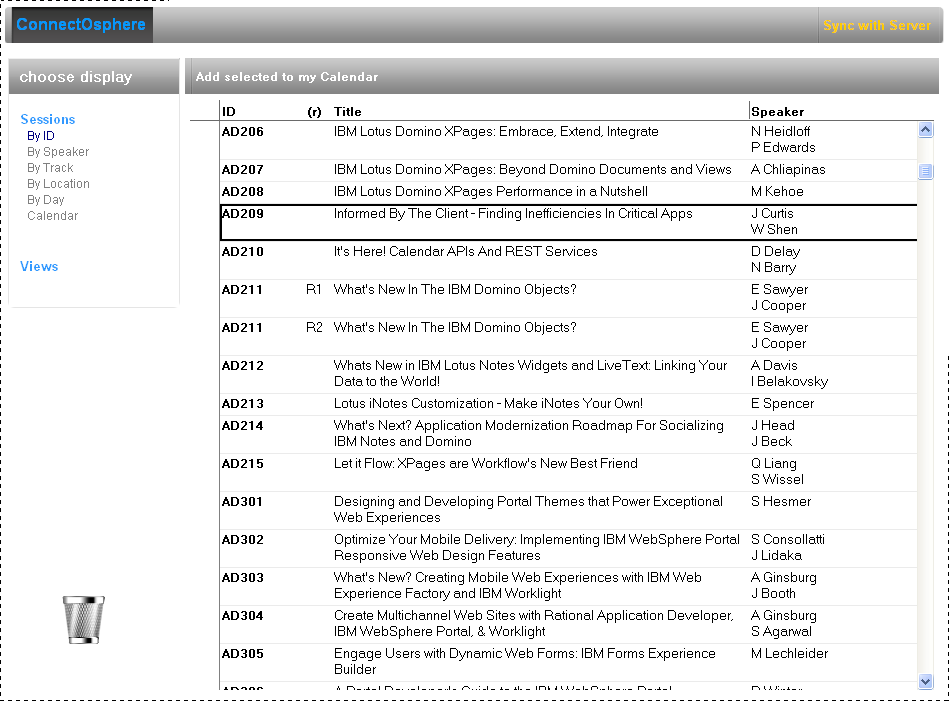 Thanks to some support from
Vitor Pereira
,
Andreas Ponte
,
Andreas Imnitzer
and
Giulio Campobassi
this fabulous resource is again under development.
Once you have downloaded and unzipped the file, just put the sphere2013.nsf database in your Lotus (AHEM!) IBM Notes data directory, choose the session you want to attend, and then click "Add to Calendar". It's that easy. You can also keep your local replica up to date just by clicking on the "Sync with Server" action, which will connect to the
fabulous
Tim
and
Gabriella Davis
's servers at the
Turtle Partnership
and keep your information up to date.
Keep an eye out. More features will be available soon.