Mat Newman
June 4 2012 13:44:07
This has come up a couple of times in the last few weeks, so I thought I'd share it with you.
Problem:
User receives a notification to warn them to disable their Out-Of-Office, but when they choose "
More -> Out Of Office...
" the dialog is telling them that O-O-O is disabled.
The Solution:
Check the users agent is not enabled using the "
View->Agents
" menu command, if it is: click the O-O-O agent, and choose the "
Disable
" action.
Figure 1: O-O-O Agent in the Mail Database' Agent List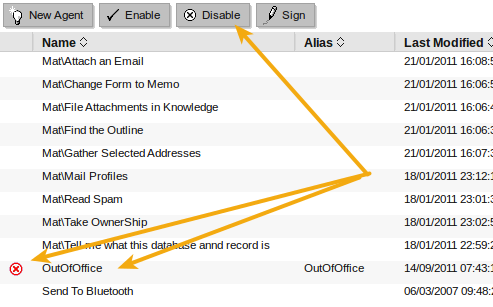 In the couple of instances where I've seen this occur it has coincided with the administrator switching from O-O-O Agent to Service, however it appeared again at another customer this morning who is not running the O-O-O service. Checking the config, the user only has 'Editor' access to their mail database, so there should have been an AdminP request posted, but there was nothing in the Admin Requests database (admin4.nsf). Checking further, the ACL of the Admin Requests database had been modified so that users no longer had 'Author' access, and therefore could not post the AdminP request to have the server disable the agent on their behalf.
The Warning
: Beware changing the defaults on any of the system applications (Databases) within your Lotus Notes domain!
Default Settings in IBM Lotus Notes and Domino are usually there for a reason, make sure you understand the impact you will have on the smooth operation of your Notes/Domino environment before you change them.
Not to say that you
shouldn't
make any changes. On the contrary; you will have read many times on this blog - especially when it comes to Notes client settings - why changing defaults is a
good
thing. This is just a friendly reminder that you should understand the consequences of any changes you make, and if you're not sure,
ask
!
I'm always happy to help.